Timetrocity iPhone Application for Halo 3
Timetrocity for Halo 3 is an application for the iPhone that provides information and alerts on when weapons and power items re-spawn during matches of Halo 3.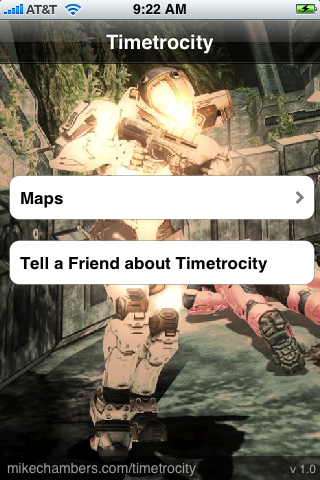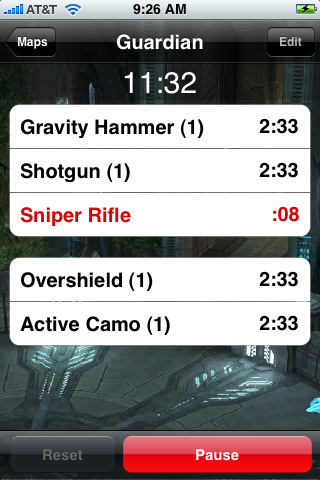 Install
Screenshots
Main Screen, Timer in Action, Default Timer Screen, Maps, Editing Game Time
Features
All Halo 3 maps and variants used in online Matchmaking.
Complete support for all Expansion map packs, including Heroic, Legendary and Mythic.
Support for all official MLG Pro maps and times.
Ability to set custom match times.
Manually reset weapon spawn times.
Audio and visual alerts at 20, 10 and 2 seconds until spawn time.
Tracking of number of times each item has spawned.
Supported Maps
Anvil
Assembly
Avalanche
Blackout
Boundless
Cold Storage
Construct
Epilogue
Epitaph
Foundry
Ghost Town
Guardian
High Ground
Isolation
Last Resort
MLG v6 Amplified
MLG v6 Construct
MLG v6 Guardian
MLG v6 Lockdown
MLG v6 Narrows
MLG v6 Onslaught
MLG v6 The Pit
Narrows
Octoplex
Orbital
Rat's Nest
Sandbox
Sandtrap
Smashed
Snowbound
Standoff
The Pit
Valhalla
Requirements
Timetrocity for Halo 3 has only been tested on iPhone OS 2.2.1
Release History
1.1 (Not Yet Released)
Corrected Sniper Spawn on Smashed.
Corrected Rocket Spawn on Foundry.
Corrected Rocket Spawn on High Ground.
1.01 (March 15, 2009)
Minor bug fixes.
No visible changes.
1.0 Live (March 9, 2009)
1.0 Submitted (March 4, 2009)
Submitted to iPhone app store
Feedback and Bugs
Please submit any feedback and / or bugs here.
About
Timetrocity for Halo 3 was created by Mike Chambers.
You can get the latest news and information on the application here as well as on twitter at:
http://twitter.com/timetrocity
Other iPhone Applications by Mike Chambers : ActionScript 3 API Reference.