I am working on creating a new Google Chrome extension, and needed a way to quickly test and iterate on toolbar badges and icons. So, I created a simple Google Chrome extension to make it easy to test Google Chrome extension toolbard icons.
The extension is called Chrome Extension Icon Tester and is avaliable as an open source project via Github.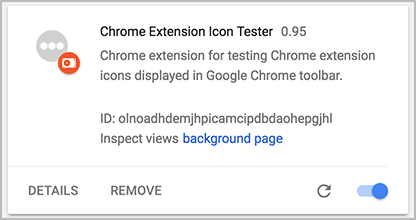 The extension allows you to quickly test and iterate through multiple icons, as well as set and test badge overlays and test. Complete instructions are included on the project site.
Finally, the project also includes an Illustrator file which is configured to export icons at all of the appropriate sizes.
You can download the extensions, and find complete instructions on how to install and use it on the Github project page.